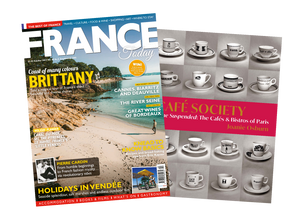 Live in the UK? Click HERE
We regret we are unable to offer this free gift to subscribers outside of the UK or US. If you live outside the UK or US, click HERE
*YOUR SPECIAL OFFER​*
Enjoy the delights of "Café Society" - an absolute stunning book that will enhance your own coffee table. The Parisian café is an integral part of the city's life no matter what the weather and through lively compelling prose and evocative images, and through its unique perspective, Café Society will appeal to all Francophiles. Also includes a list of establishments to help you plan your next visit!

(Please note that subscriptions will start from the next published Issue so please do not worry if you don't receive a magazine straight away... it could be a number of weeks or even a month before you receive your first issue)
Here's what you can expect to enjoy when you subscribe to France Today:

GASTRONOMY - Join us on a discovery of taste with the country's best restaurants, bars and bistros.
ART & CULTURE - Enjoy the unique variety of events that take place throughout the whole of France, all year long.
TRAVEL - Latest news, routes and traveller essentials.where to eat, travel advice, language and etiquette tips for travellers and lots more.