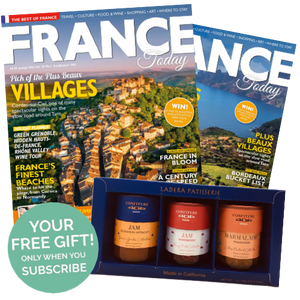 Live in the UK? Click HERE
We regret we are unable to offer this free gift to subscribers outside of the US. If you live outside the US, click HERE
*YOUR SPECIAL OFFER​*
Brought to you from Ladera Patisserie, specialists in crafting and preserving authentic French artisan delicacies using the finest Californian fruits, your FREE giftworth $26.99 comprises a fancy gift box of 3 assortment of their best-selling jams that can make a great gift for any occasion.
The flavors are mandarin, raspberry and Blenheim apricot, all carefully selected to give you the best of Ladera Patisserie's artisan work.
(Please note that subscriptions will start from the next published Issue so please do not worry if you don't receive a magazine straight away... it could be a number of weeks or even a month before you receive your first issue)
Here's what you can expect to enjoy when you subscribe to France Today:

GASTRONOMY - Join us on a discovery of taste with the country's best restaurants, bars and bistros.
ART & CULTURE - Enjoy the unique variety of events that take place throughout the whole of France, all year long.
TRAVEL - Latest news, routes and traveller essentials.where to eat, travel advice, language and etiquette tips for travellers and lots more.